Turkey Derby TQ Victory In Hand, Matt Roselli Looks Ahead To LSMP Indoor Auto Racing Season, Starting With The Battle Of Trenton, Dec. 9-10
admin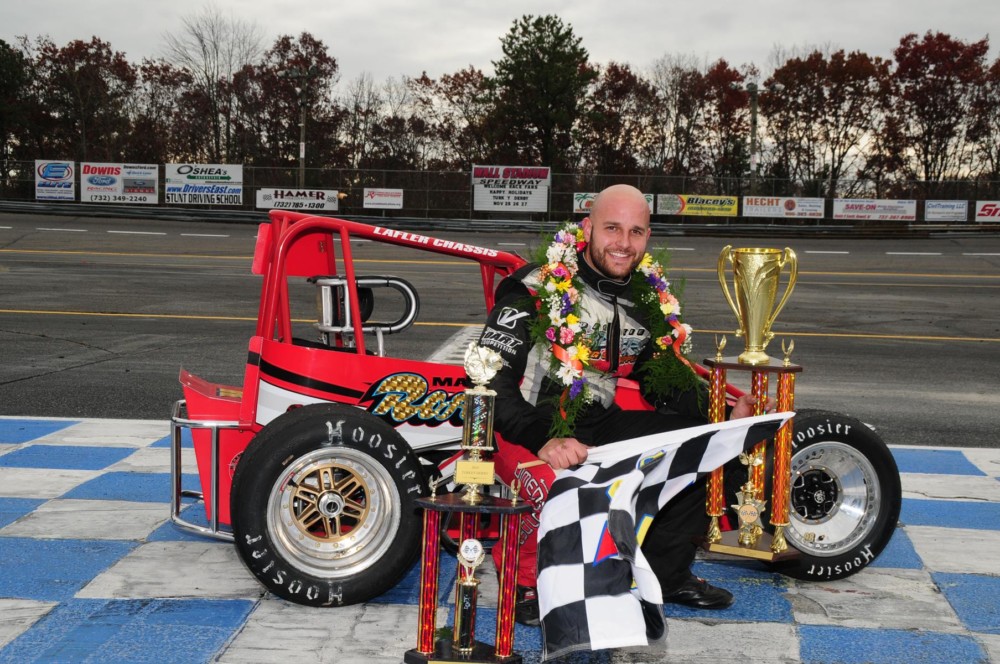 TRENTON, NJ – Matt Roselli stepped from his TQ Midget and into Wall Stadium's Turkey Derby Victory Lane Saturday afternoon  as a man who had accomplished a great mission.
"I've been good enough to win races but I just hadn't been able to get it done," Roselli, of Brodheadsville, Pa,  said.
Roselli's victory was his first of 2016 and it came at the perfect time – at the end of the outdoor season and the onset of the Len Sammons Motorsports Productions  (LSMP) indoor auto racing year.
"I'll be driving the same Lafler car I raced outside all this year," Roselli said.
That's in contrast to many entrants who enter special indoor cars or who compete in TQ Midgets only in the indoor auto races.
The 2016-2017 Indoor auto racing series begins with the Friday and Saturday, December 9-10 events at Sun National Bank Center in Trenton, N.J.
The man Roselli and all others will have to work overtime to defeat is Erick Rudolph.  Rudolph, of Ransomville. N.Y. won last year's TQ Battle of Trenton and the 2015-2016 championship.
Other early TQ Midget entries have been filed by seven-time LSMP Indoor TQ feature race winner Ted Christopher of Plainville, Ct., past ATQMRA circuit champions Matt Janisch of Nazareth, Pa., and Ryan Tidman  of Holland, Pa., and perennial asphalt Modified standouts Jimmy Blewett of Howell, N.J., Zane Zeiner of Bath, Pa., and Earl Paules of Palmerton, Pa.
As a special preview of the 2016-2017 Indoor Auto Racing Series, general admission tickets for Friday's Battle Of Trenton opening night have been priced at just $10 for adults and $7 for children.
The ultra quick TQ Midgets will headline  both Friday's opening night and Saturday's "Battle Of Trenton" feature event finale. The TQ Midgets are lightweight high-tech race cars powered by 750cc Motorcycle engines that achieve speeds upward of 75 mph when driven by professional race car drivers from eight states and Canada.
The Friday night race program, which begins at 7:30 PM,  consists of 60 TQ Midgets split into three 20-lap Qualifier races.A complete program of heat races and feature event for the Champ Karts is also on the schedule. Attendees can get a close up look at a TQ Midgets at Fan Zone located on the concourse.
Top drivers and Ms. Motorsports 2016 Arynne Moody will be making an appearance at Fan Zone offering autographs and photos free of charge. Ryan Flores, a member of Roger Penske's NASCAR Sprint Cup Series team, will be among those top TQ drivers who will be meeting and greeting Fan Zone attendees for Friday's races.
On Saturday the "Battle Of Trenton" 40 lap feature event will be held after a series of qualifying events for the TQ Midgets. The always popular and wild Slingshots will also be part of this program sponsored by Oliver Communications in Bordentown, N.J. and Pete & Elda's Bar in Neptune City. N.J.
Tickets for Saturday's races are available starting at $17 for adults and $7 for children. Fan Fest will be held inside the speedway one hour prior to the 7 PM starting time. The entire field of race cars competing on Saturday will be on display during Fan Fest and drivers will be available for free autographs and photos by their cars.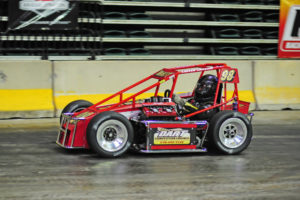 The Trenton race is part one of a three-race Len Sammons Motorsports Productions (LSMP) Indoor Auto Racing Series.  Other races are scheduled for December 30-31 at PPL Center in downtown Allentown, Pa., and at Boardwalk Hall in Atlantic City, N.J., on January 27-28, 2017.
Trenton Indoor Race tickets are available online at www.sunnationalbankcenter.com or by phone at 1-800-298-4200. Tickets may also be purchased at the Sun National Bank Center Box Office on Monday through Friday from 10 AM until 5:30 PM and on Saturday from 12 Noon through 4 PM
Event and promotional sponsorship information is available at www.indoorautoracing.com by phoning 609-888-3618.