20 Years After Andy Mackereth's Victory, Atlantic City Indoor Mystique Remains
Davey Sammons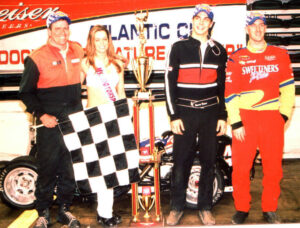 Andy Mackereth Won The First Atlantic City Gambler's Classic 20 Years Ago: Times, Names May Have Changed But Boardwalk Hall Mystique Endures
Atlantic City, NJ –  Twenty years ago, on Saturday, January 18, 2003, Mississauga,  ONT  TQ Midget driver Andy Mackereth became the first Atlantic City Indoor Race winner in 22 years. The event marked the debut of Len Sammons promoted racing events at Boardwalk Hall, after a tradition that had started in 1965 by George Stockinger came to an end in 1981.
Fellow Canadian Stewart Friesen (who was 19 years-old at the time) was second to Mackereth and Watertown, N.Y.'s Tim McCreadie was third. Mackereth's winner's share was $2,000. Last year's race winner Tim Buckwalter of Douglassville, PA collected a $5,000 first place check.
Two decades later, the mystique of Atlantic City, Boardwalk Hall, and the Indoor Auto Racing Series remains as powerful, if not moreso than it has ever been.
The most fascinating barometer in the 20 year time span is seen in the time trials. In 2003, Michael Roselli, Jr. set fast time with a 10.049 lap while racing around the hockey ring ice that was not removed!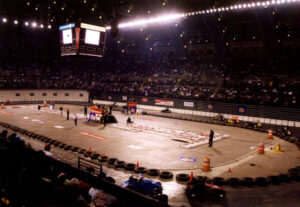 In 2016, Ryan Flores of Davidson, N.C. set the current track record when he turned a lap of 7.937 nearly three seconds faster than Roselli had run 13 years earlier. With the ice and an inside guard rail removed the corners were rounded out.  The track changes and the improvement to today's TQ Midgets have made the racing better than ever!
This year's Atlantic City event will provide thousands of spectators with two complete TQ Midget programs – a "Double Down" schedule – one on Friday, January 27th and a second on Saturday the 28th.
To make up for a Covid-19 cancellation in 2021, two complete Gambler's Classics will be run. That will include two sets of time trials, heats,  and 'alphabet main events' that will select two different starting fields for the 40 lap A Main each night.
The BELFOR Property Restoration TQ Midgets opened the Indoor Auto Racing Championship Series fueled by VP Racing Fuels, inside Allentown, PA's PPL Center on Saturday, January 7th. In one of the most exciting events in series history , Matawan, N.J. driver Anthony Sesely rim-road around the speedway to a win over Flores.
Sesely, a three-time Gambler's Classic winner, enters this year's event as a pre-race favorite. Flores, formerly from N.J. before moving south to work full-time for Roger Penske's NASCAR Cup team, will be seeking his second victory inside historic Boardwalk Hall.
Prior to Saturday's event Fan Fest will be held on the racing surface for those with lower level reserved tickets from 5 to 6:15.  Drivers from the event as well as  NHRA Funny Car champion Ron Capps will be signing autographs.
Joining the headline TQ Midgets will be the Slingshots, sponsored by Pa.'s Kutztown Action Track, the Hoosier Tire Champ Karts and the 600cc Dirt Micro Sprints. They'll run qualifying events on Friday and their features on Saturday night.
Good seats for both night remain available at Ticketmaster, a direct link is available from the series web-site, indoorautoracing.com, or daily at the Boardwalk Hall Box Office where the price is increased by $5 the day of the event.
For those who cannot attend, the event will be available on DTD Pay-Per-View for $64.99 for the weekend or $34.99 for Friday and $39.99 for Saturday.