Anthony Sesely Becomes First Four-Time NAPA Auto Parts Atlantic City Indoor Race Gambler's Classic Winner; Logan Crisafulli, Erick Rudolph, Danny Spellmon Race To Champ Kart, 600 Micro, Slingshot Feature Checkered Flags; Sesely Is TQ TC Cup Points Champion
Indoor PR
Atlantic City, NJ (Sat., Jan. 28) –  In front of a huge Boardwalk Hall crowd, Anthony Sesely raced to victory Saturday night in the NAPA Auto Parts Atlantic City Indoor Race Gambler's Classic holding off Andy Jankowiak — who had won the Gambler's Classic run the night before.
Sesely charged forward from the ninth starting position choosing to take a guaranteed $500 courtesy of Bob Hilbert Sportswear for electing to start in the last redraw spot.  The $500 would double if Sesely won the feature event, adding a cool $1000 to the winner's share.
Joey Bailey and Erick Rudolph led the 26-car field to the drop of the green flag, with Rudolph leading the event prior to the halfway point.  Sesely quickly used the top side of the race track to move into the third position by lap ten.
Jankowiak bested Rudolph, claiming the top spot at the midway point, with Sesely challenging for the lead a few circuits later.
Fans stayed on their feet for the 40-lap main event which featured multiple side-by-side duels for the lead, one multi-car crash — that took out several potential runners, and a fight to the finish with Sesely winning by half a car length over Andy J.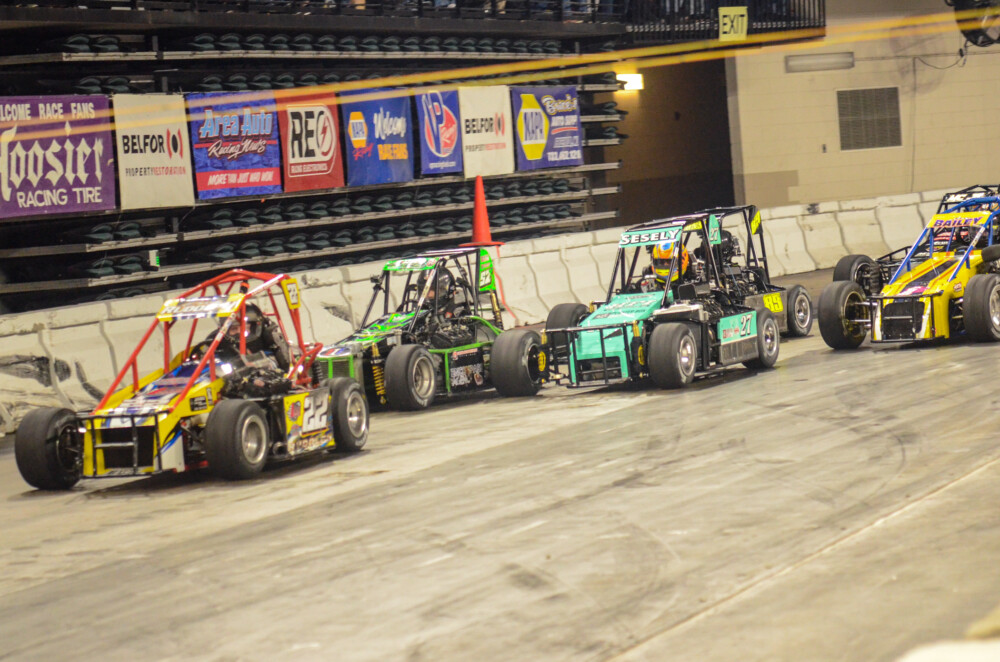 Sesely's win, his fourth in the prestigious Gambler's Classic, came behind the wheel of a TQ built by 2 Kwik Chassis.
"This win is for the owners of these cars, Ricky Kluth and Jeff Ulrich. The 27 car I won with is a tribute car for Ricky's father and the 75 car I raced last night is a tribute car for Jeff's dad," Sesely said, with obvious humility and pride.
Jankowiak held on for second, while Mike Christopher, Jr. finished third after battling overheating problems.  Ryan Flores was fourth and Nick Ladyga ran fifth. Jeremy Haudricourt, Joey Bailey, Matt Janisch, Tyler Ferris, and Ryan Tidman.
Haudricourt was acknowledged as the race's Hard Charger, having finished in the sixth spot from a 25th-place start.
Sesely's second win of the 2023 season guaranteed his TQ Midget Championship and earned him the coveted TC Cup Trophy – named after seven-time Indoor Series winner, Ted Christopher.
"Winning the TC Cup Trophy means so much to me," Sesely said. "Teddy (Christopher) was a great competitor, but even more important, he was my friend."
Also winning features Saturday night were Logan Crisafulli in the Champ Karts, Danny Spellmon in the Slingshots, and Erick Rudolph in the 600 Micro Sprints.
Tyler Brown was acknowledged as the Champ Karts Indoor Auto Racing Series Fueled By VP 2023 champion.  Scott Neary, the fifth-place finisher, claimed the 2023 Slingshot Championship
On Saturday afternoon, Andy Jankowiak set the fast time (8.145 seconds) over Sesely (8.152 seconds) from among 48 TQ Midgets that registered a time.
TQ Midget qualifiers were won by Ryan Flores, Anthony Sesely, Briggs Danner, Joey Bailey, Ryan Bartlett, and Erick Rudolph.
Slingshot B Mains were won by Chris Darrow and James Benz. Champ Kart B Mains were taken by Dylan Feltman and Tyler Catalano.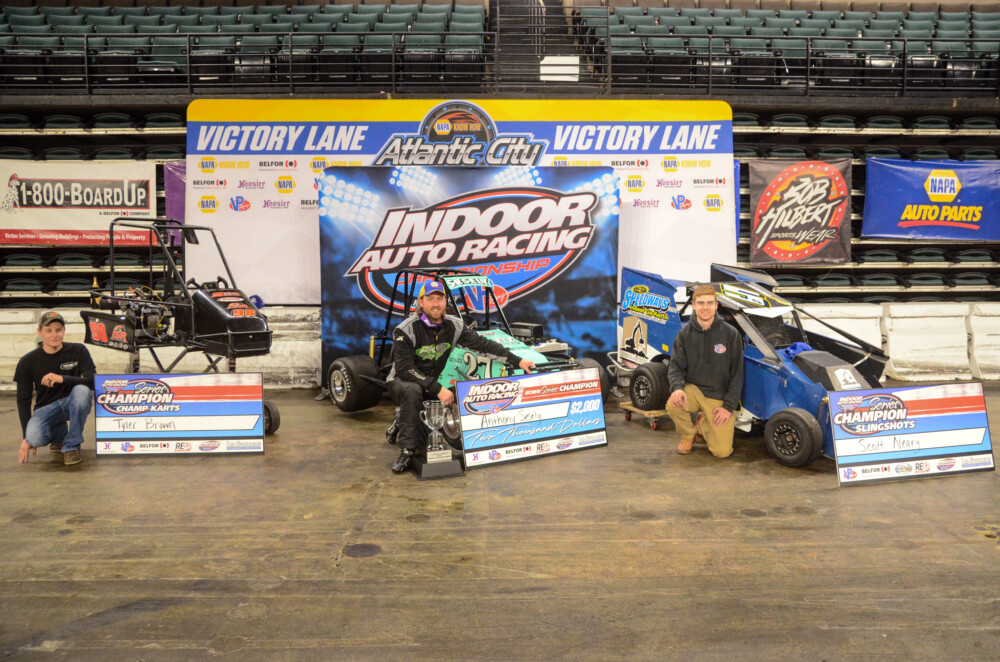 Prior to the first race Saturday night, Fan Fest, an event that provided ticket holders the opportunity to meet and greet drivers and have a look up-close to the race cars was conducted. NHRA Funny Car champion Ron Capps, sponsored by NAPA Auto Parts, also met with and greeted fans.
The next event for Len Sammons Motorsports Productions is the East Coast 600 Sprint Indoor Dirt Nationals presented by BELFOR at the Cure Insurance Arena in Trenton, NJ on February 24-25, 2023
 Gambler's Classic TQ Midget Feature (40 Laps): 1. Anthony Sesely, 2. Andy Jankowiak, 3. Mike Christopher Jr., 4. Ryan Flores, 5. Nick Ladyga, 6. Jeremy Haudriccourt, 7. Joey Bailey, 8. Matt Janisch, 9. Tyler Ferris, 10. Ryan Tidman, 11. Matt Swanson, 12. Erick Rudolph, 13. Tim Buckwalter, 14. Kyle Lick, 15. Briggs Danner, 16. Shawn Nye, 17. Tommy Catalano, 18. Ryan Bartlett, 19. Zach Bealer, 20. Andrew Molleur, 21. Billy Pauch Jr., 22. Trevor Catalano, 23. Timmy Catalano, 24. Scott Kreutter 25. Ryan Susice, 26. Tyler Thompson
 Dirt 600 Micro Feature (25 Laps): 1. Erick Rudolph, 2. Louie Horvath, 3. Tim Buckwalter, 4. Tyler Gunn, 5. Kole Kirkman, 6. Kyle Lick, 7. Tyler Lindsay, 8. Jonathan Reid, 9. Mark Yoder, 10. Luke Thomas, 11. Sean Case, 12. Jasper Zeigafuse, 13. Brenden Hires
 Champ Kart Feature (25 Laps): 1. Logan Crisafulli, 2. Quentin Graham Jr., 3. Ryan Borges, 4. Tyler Brown, 5. Dylan Dismoor, 6. Dan Kapuscinski, 7. Brandon Rusczek, 8. TJ Reed, 9. Cole Neibert, 10. Glen Meisenhelder, 11. Dylan Feltman, 12. Chase Keiser, 13. Preston DeMello, 14. Joseph Mingola, 15. Chris Natoli, 16. Ryan Kendall, 17. Jon Keister, 18. Missy Bootes, 19. Seth Whitney, 20. Tyler Catalano, 21. Dalton Rovira, 22. Brayden Meservey, 23. Owen Bird, 24. Dustin Degler
 Slingshot Feature (20 Laps): 1. Danny Spellmon, 2. Simon Egan, 3. Cody Bleau, 4. Tyler Ulsh, 5. Scott Neary, 6. John Redner 7. Mark Mohr, 8. Chris Kurtz, 9. Alex Reinsmith, 10. Cody Kline, 11. Mike Lipicki, 12. Matt Mertz, 13. Chris Darrow, 14. AJ Gerhart, 15. Ryan Raidline, 16. James Benz, 17. Nolan Layser, 18. Brett Putnam, 19. Chase Bixler, 20. Paul Hartwig, 21. Dustin Degler, 22. Bryan Preville, 23. Brett Bieber, 24. Louden Reimert