Anthony Sesely Thrills With an Ironton Global Allentown Indoor Race Win
Indoor PR
Anthony Sesely raced to his sixth career TQ Midget win in the Indoor Auto Racing Championship Fueled by VP Series opener Saturday night inside the PPL Center in a thrilling feature that had the arena fans on their feet for most all of the race.
Sesely, who started fifth in the 40-lap feature, spent most of the race running side by side with Tyler Thompson, taking the lead briefly for the first time on lap 24, losing it back a lap later, then taking it back once again on lap 26.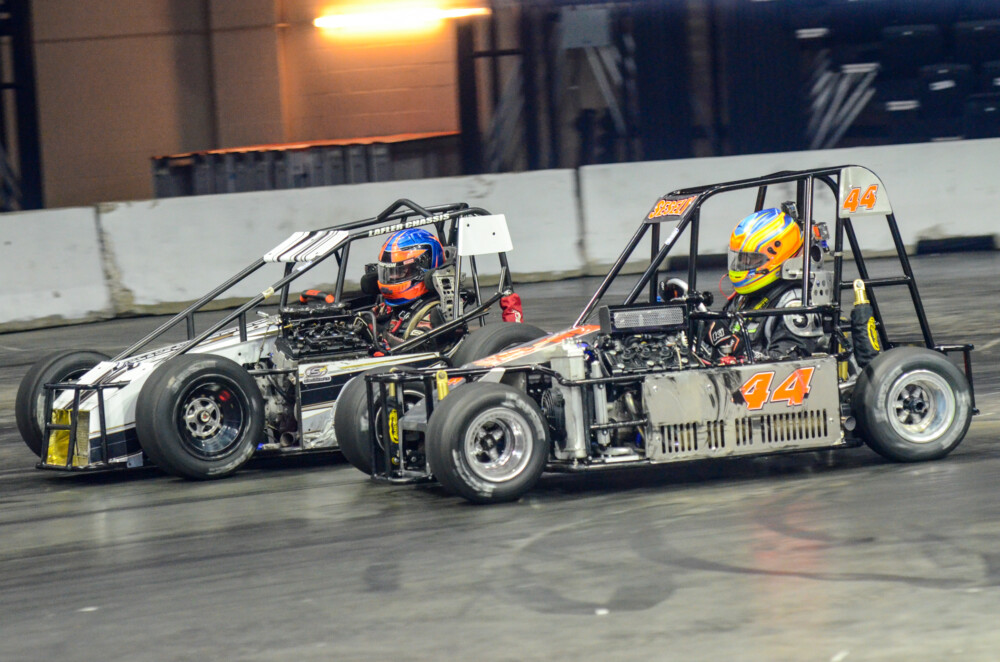 The turning point in the battle for the lead came six laps from the end when Thompson was penalized for jumping the leader on a double file restart. Thompson was set back two spots and was never a factor in the race after that.
Ryan Flores, Tommy Catalano, and Erick Rudolph gained ground in the final five laps, finishing second, third, and fourth. Catalano marched from 14th in the field at the start, while Rudolph came from 12th. Andy Jankowiak was fifth.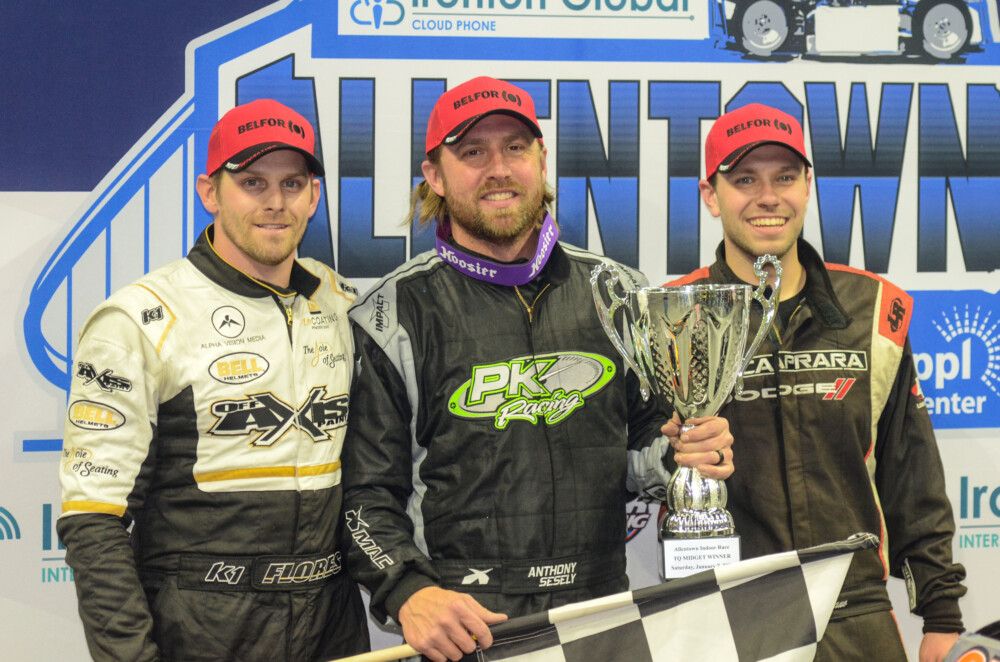 "I wasn't surprised they called a jump on him," Sesely said. "They told us about what point on the track we had to clear before taking off. He did that quite a few times when he was the leader before.  We were running each other hard. Very happy to get the win. This is the same car Ricky (Kluth) built for me that we won the Syracuse Indoor race with last year," Sesely revealed.
Thompson did not think his actions on the restart deserved the penalty he received. "I think we were both taking off early when we were restarting side by side.  But that's racing, I don't like it, but I understand it," he said.
Four TQ Heat Races presented by Mahoning Valley Speedway that helped set the field for the TQ A-Main were won by Mike Christopher, Jr., Timmy Catalano, Erick Rudolph, and Ryan Susice.
The TQ Dash sponsored by Ironton Auto Body worth $500 to win was earned by Tyler Thompson over Briggs Danner, Shawn Nye, Andy Jankowiak, and Anthony Sesely. Ryan Flores, Andy Jankowiak, Joey Bailey, Scott Kreutter, and Jeremy Haudricourt finished sixth through ninth. The finishing order of the Dash determined the top nine starting positions in the TQ A-Main event.
Two 12-lap TQ B Mains sponsored by Mahoning Valley Speedway were taken by Kyle Lick ahead of Cole Mullen and by Andrew Nye, who narrowly shaded Craig Pelligrini, Jr. at the checkered.
The Indoor Auto Racing Championship Fueled by VP Racing Fuels is back in action on January 27 and 28 at the NAPA Know How Atlantic City Indoor Races inside the famed Jim Whelen Boardwalk Hall.
For more information on visit www.IndoorAutoRacing.com
Belfor Property Restoration TQ Midget Feature Results (40 Laps) – 1. Anthony Sesely, 2. Ryan Flores, 3. Tommy Catalano, 4. Tyler Thompson, 5. Erick Rudolph, 6. Andy Jankowiak, 7. Scott Kreutter, 8. Shawn Nye, 9. Briggs Danner, 10. Jeremy Haudricourt, 11. Kyle Lick, 12. Joey Bailey, 13. Tim Buckwalter, 14. Timmy Catalano, 15. Chris DeRitis, 16. Mike Christopher Jr., 17. Andrew Nye, 18. Matt Janisch, 19 Matt Roselli, 20. Ryan Susice, 21. Bobby Holmes, 22. Trevor Catalano, 23. Craig Pellegrini Jr., 24. Cole Mullen