Tim Buckwalter Claims $5,000 BELFOR Property Restoration East Coast Dirt Saturday Night In Trenton's Cure Insurance Arena
Indoor PR
Trenton, NJ (Sat.) – Tim Buckwalter of Douglassville, PA raced to a thrilling victory Saturday night in the East Coast Indoor Dirt Nationals 50-lap 600cc Sprint feature on the climactic night of the two-day BELFOR Property Restoration sponsored races in Trenton, NJ's Cure Insurance Arena. The Saturday night events were sponsored by Custom Built Products.
Buckwalter worked his way into contention from a sixth-place start to move to fourth behind Alex Bright, Briggs Danner, and Connor Gross by lap 12. But when he and Danner tangled racing for second place, both had to restart from the rear of the field.
"I knew I had a good car but I had to calm myself down after the tangle," Buckwalter admitted. Bright, Billy Pauch, Jr., Gross, and surprising Dellaponti, who had started 19 th in the feature as a B-Main qualifier, were in Buckwalter's path.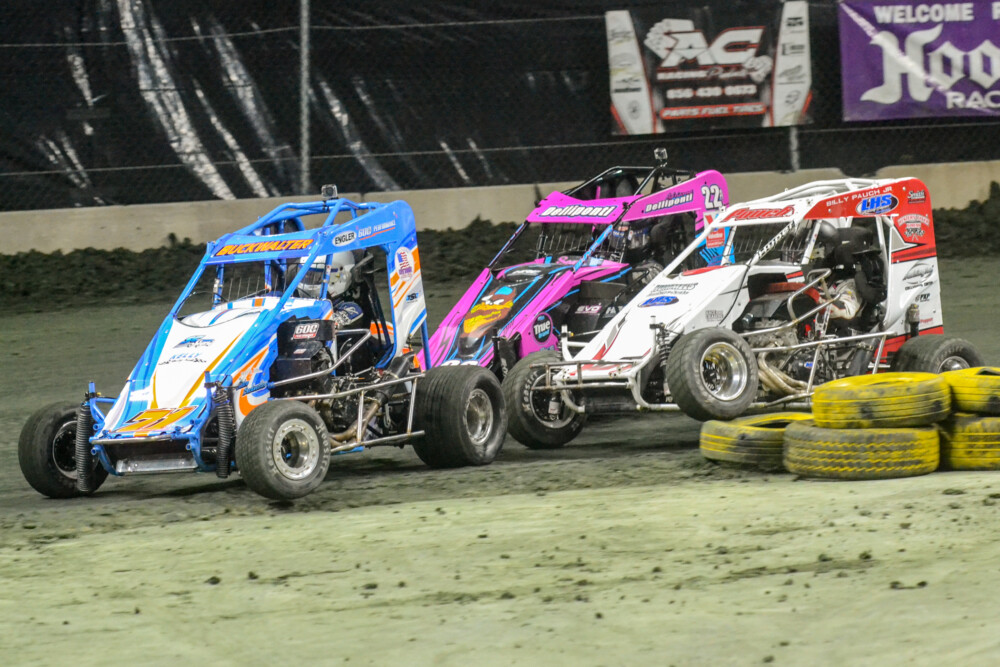 Aided somewhat by a trio of mid-race starts, Buckwalter charged into second by lap 20, moved to the lead by passing Pauch on lap 23, and was never headed for the remainder of the race.
Behind him, the action for the runner-up spot had the fans standing and cheering. Pauch held it, Bright was challenging and Dellaponti was battling both of the teammates in a fight for the position that changed every lap. Dellaponti held off Pauch and Bright — and was right behind Buckwalter when, after 15 sustained laps of green flag racing, a late race caution came out.
"I really think I could have caught him (Buckwalter) if the yellow hadn't come out," Dellaponti exclaimed. "I got under him once and had the speed."
As it was, the caution gave Pauch, Jr. a new chance at second place and he ducked under Dellaponti on the white flag lap to finish second by less than half a car length.
"The high side was working for me all night," Pauch shared. "But as the race went on, the top got too far out there to make any progress. Happy to finish second, but really want to win one of these races sometime." Pauch has never won an Indoor Auto Racing Series despite several prior second-place finishes before this one.
Behind the front trio of Buckwalter, Pauch, and Dellaponti were Zach Bealer, who, like Buckwalter, had been involved in a skirmish that sent him to the rear of the pack early, and Kyle Spence.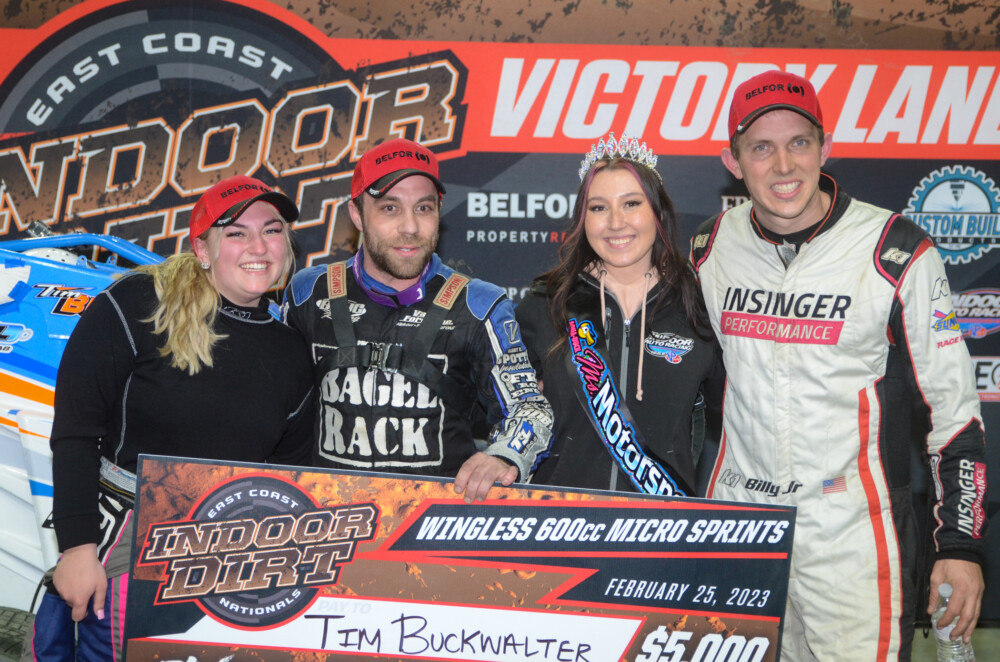 Early leader Bright settled for sixth, Aidan Borden, who started seventh in his C-Main, transferred to the B, made it into the A, and finished a fast-closing seventh. Billy Calvert, PJ Williams, and Marty Brian completed the top ten.
The top 12 starting spots were determined by an eight-lap Dash among the top three finishers in the previous night's four 20-lap A-Main Qualifiers. Alex Bright won the race and earned the right to start on the pole for the 50-lap main event with Scott Kreutter, Connor Gross, Steven Snyder, Jr., and Pauch finishing in the top five.
The remainder of the 24-car starting field was determined by a series of 'Alphabet' Mains. Kenny Miller, III, and PJ Williams won the pair of 15-lap B Mains, Wayne Scott and Dan Robinson the two 12-lap C Mains, Scott, and Bubba Hughes earned the pair of 12-lap D-Mains and Colin White and Joey Amantea bested the fields in the two 12-lap E-Mains.
Jon Keller was the 25 th starter, was the most recent winner of the East Coast Dirt Nationals in 2020. Keller flipped his car in Friday heat racing, bending it beyond repair. He missed transferring into the A Main after attaining a ride in a different car. He finished 25 th.
"The East Coast Dirt Nationals are back," event promoter Len Sammons said, noting that the race had been held this weekend for the first time in three years. "The racing was great, a new star was born in Adrianna Dellaponti, and track gave the fans great racing," Sammons said.
For more information about the Indoor Door Auto Racing Championship visit www.indoorautoracing.com
East Coast Indoor Dirt Nationals Finish (50 Laps): 1. Tim Buckwalter, 2. Billy Pauch Jr., 3. Adrianna Dellaponti, 4. Zach Bealer, 5. Kyle Spence, 6. Alex Bright, 7. Aidan Borden, 8. Billy Calvert, 9. PJ Williams, 10. Marty Brian, 11. Connor Gross, 12. Billy Koch, 13. Chris Allen, 14. Adam Bracall, 15. Tyler Ulrich, 16. Eddie Strada, 17. JT Bierman, 18. Jimmy Glenn, 19. Dan Robinson, 20. Briggs Danner, 21. Kenny Miller III, 22. Steven Snyder Jr., 23. Kyle Lick, 24. Scott Kreutter, 25. Jon Keller.